Faking EXTEND
The following ARCEDIT routine extends the currently selected arc to another that is selected by the user.
---
&r EXTEND
Extends the currently selected arc to intersect another.
---
notes
The user must select one arc prior to executing EXTEND. EXTEND will then prompt to select the target arc. Only one target arc may be selected (SEL MANY is used to allow a chance to change the selection or bail out).
EXTEND will also retract an arc if the target is within the first or last segment.
The routine does not restrict itself to dangling nodes (I haven't found a satisfactory way to determine whether a particular node is shared), so be careful using it!
Version 3.5.1 is required.
---
To download the install pack, click HERE. Unzip in a temporary directory and execute EXTEND.BAT.
---
Before: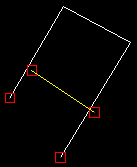 After: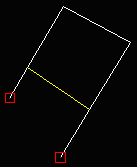 ---
Return to ARCEDIT Utilities