Trip to Ireland: 2009
April 23:
Well, here I am in Dublin. My luggage made it through OK, in spite of a delayed arrival in Philadelphia that had me running to my connection. The weather is mild (50s F by day, 40s by night) and drizzly. They're not joking about the green here; my camera really doesn't do it justice in the grayness of the light. You can see a bit of Trinity College across the street from my room, beyond the red brick buildings: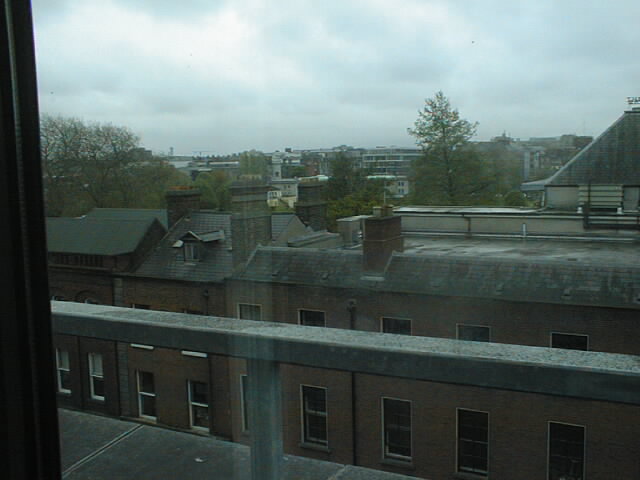 Yes, there's some green in Dublin, but nothing compared to what I saw in the country on the way in. In the meantime, here's one of the entrances to Trinity College: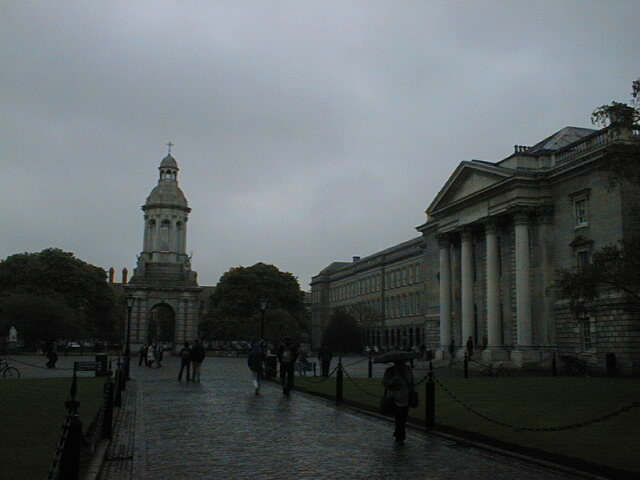 Here's the historic library building in Trinity College, housing the Long Room and Book of Kells (sorry, no pictures allowed inside):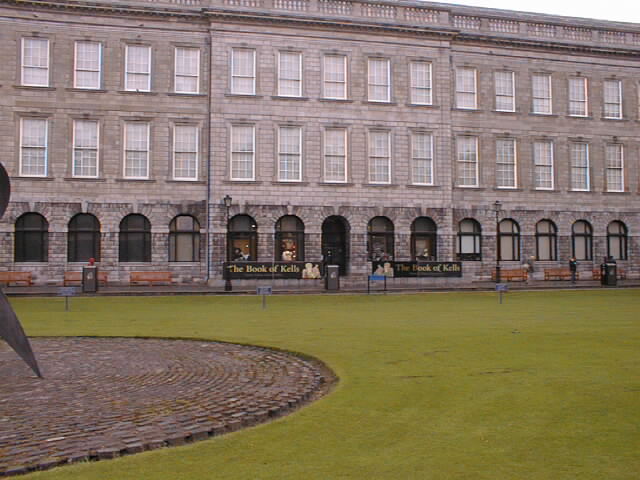 A sign inside says (in multiple languages) to beware of pickpockets. No worries there: I keep my passport, wallet, and camera in pouches secured by my belt. In the Long Room, along with lots of historic books and documents, is the oldest known intact Irish harp: it's a lot smaller than I thought, about 18" high.
Speaking of languages, descriptive signs here are almost all dual English and Gaelic. Lots of flyers, brochures, etc. are printed in multiple languages (mostly French, Spanish, and German). Some traffic signs are also in German here, "Achtung" and the like.
Here's the National Museum of Ireland - Archaeology: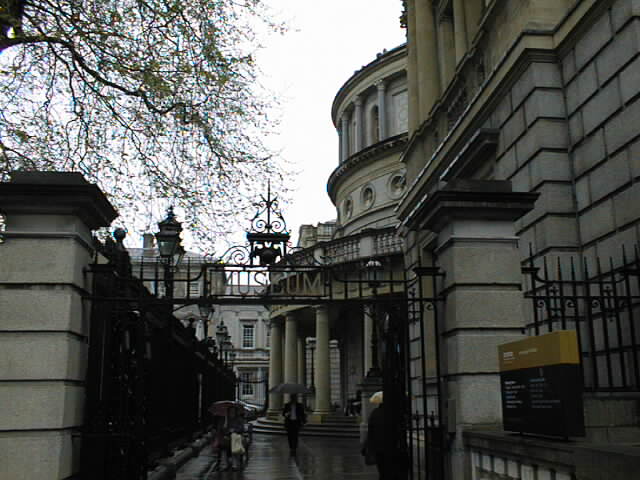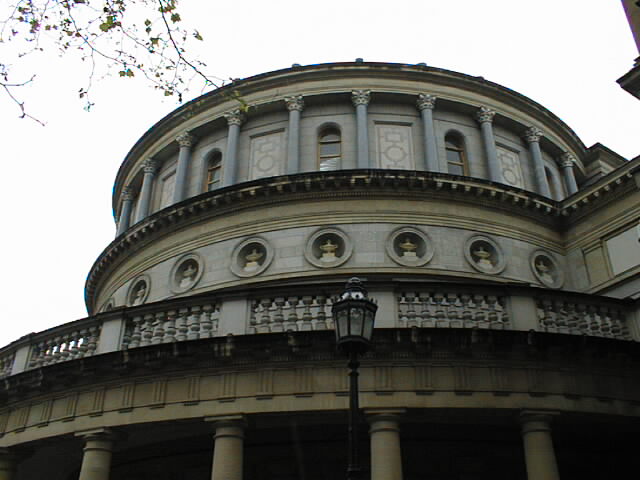 There are many fantastic collections of artifacts here, including Neolithic gold, amber, stonework, and an incredibly long log boat; Viking era swords, trumpets, and other metal work; early glass work and silver smithing; a surprising collection of early Cyprus pottery (some of it reminiscent of Pueblo pottery); and some furs, textiles, and human remains that were preserved in bogs. (Again, no picture taking allowed inside.) Way too much to see properly; by this point, I'm so zoned out from jet lag I can only glance at most of the items.
I vegetate for a while back at my room before having a couple of pints and a delightful dinner of leek-and-garlic sausages with carmelized onions. Contrary to popular belief, Guinness is no better in Dublin! That may have been true 10-15 years ago when American distributors and bars improperly stored, transported, and dispensed it. Now, Guinness is more like the McDonald's of stout, but in a good way: more care is taken to treat it right and keep the experience more consistent.
Speaking of "experience", that seems to be a popular theme in Ireland. In researching places to visit, I kept running across that word: the Book of Kells experience, the Viking experience, the Jameson experience, and on and on and on. Theme villages proliferate here like flies in open air meat markets. I may visit one or two but pretty much this trip I plan to focus on ruins, natural features, and traditional pubs. Not tonight, however: although I'm on my second wind right now, it's bed for me soon.
April 24:
[Earlier in the morning:]
Here's a bit about the Trinity Capital Hotel before I hit the pavement again this morning. The only free WiFi is in the lobby or bar; in-room wired access costs serious €€€ (a Euro is about $1.30 last I looked, down considerably from last year). I was warned that Internet access isn't as widespread here, but I know at least one other place where I'm staying offers it, so expect more posts from me while I'm here.
My room reminds me of the one I once had at the Hassayampa Inn in Prescott, AZ: small, historic, with ancient fixtures. The bathroom features a raised, high-walled tub that's like climbing into a truck cab but without the steps. The room is chilly, no climate control, but with very warm down bedding (I suspect that will be the case everywhere I stay). Light fixtures and switched outlets only work if you plug your room key card into a receptacle by the door. I was careful of course to make sure my laptop charger was compatible with 230V, and I have both Irish and UK plug adapters (you see both types in Ireland, depending on the age of the building). My beard clippers hold a charge for over 2 weeks so I should be good there.
The "Irish" breakfast features eggs and meat that are surprisingly wretched after last night's savory dinner, but it comes with the room so I nibble stoically; actually the mushrooms are decent and I confine myself largely to those. The domestic news headlines, by contrast, are dominated by familiar, almost homey topics: gang violence, economic collapse, and worthless digital voting machines being sold for scrap.
Most everything around here doesn't open until 9:30 or 10 am (which is why I'm still in my room writing this), and closes at 6 pm. I don't know how anyone gets their shopping done. After that, it's pretty much stay at home or go to the pub or movies. The only package liquor I've seen so far is at the duty-free shop at the airport, but at the time I figured it would be like bringing coals to Newcastle.
Speaking of the airport, I'm not quite sure what to make of Customs. Signs tell you to go through the red door if you have any forbidden items, otherwise through the blue door if you're an Irish or EU citizen, or else through the green door. The green door is simply an exit. Lots of gnarly construction at the airport, though, and the traffic is haywire. I don't look forward to returning my car there.
Not that I have my rental car yet. Everything in downtown Dublin is within easy walking distance, and the travel package gives me a couple of days to acquaint myself with urban insanity before I pick up my car and high-tail it out into the country. Street signs here are especially difficult to find; on older intersections, if you're lucky, you might spot some street signs on walls of buildings: white letters on a baby blue background. Newer intersections more often have no signs at all as far as I can see. I think I'd better allow myself plenty of driving time in this country.
[Later that day:]
First stop of the day: the Old Jameson Distillery north of the river. Through the entrance you can see an old pot still in the courtyard: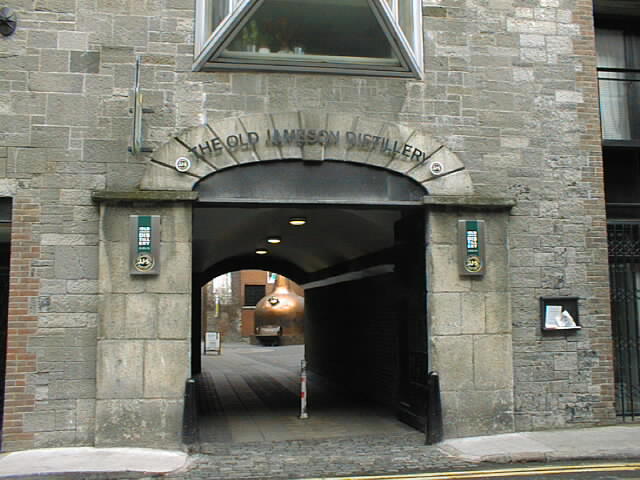 It's actually a fairly small place, and the tours are intimate, except for the opening theatre which shows a video full of dramatic music and reverent narrative. It turns out that those who make Irish whiskey use closed, coal-fired ovens to dry their malt, as opposed to makers of Scotch, who use open peat-fired ovens. I ask the tour guide afterwards about Bushmill's, and he says that its mild peat character comes from the water which flows through the bogs, whereas Jameson uses mountain water. I actually prefer Bushmill's to Jameson*, but don't say that to the tour guide. The tour ends with a whiskey tasting, comparing Jameson to a 12-year Scotch (Johnny Walker) and an American whiskey (Jack Daniels). Of course, everyone knows which one wins out. Much fun is had by all.
*[Update: Since then I've tried the 12 year Jameson: it is truly heaven, and I'm now a convert. It's pricey, though, and I can only enjoy it occasionally as a special treat.]
From there it's a short stagger to the National Museum of Ireland - Decorative Arts. Here's the approach to the entrance: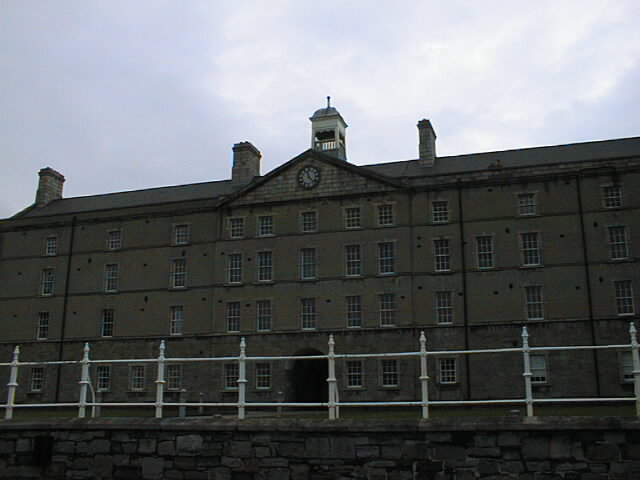 The complex is a quad surrounding a central courtyard. Here's a view to the back of the courtyard from the entrance: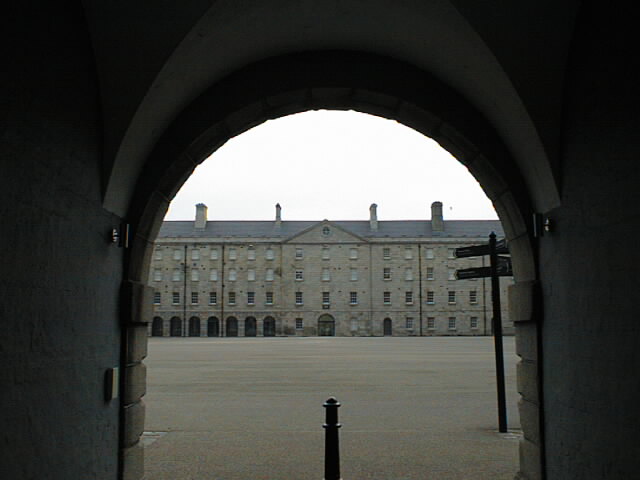 And to one side: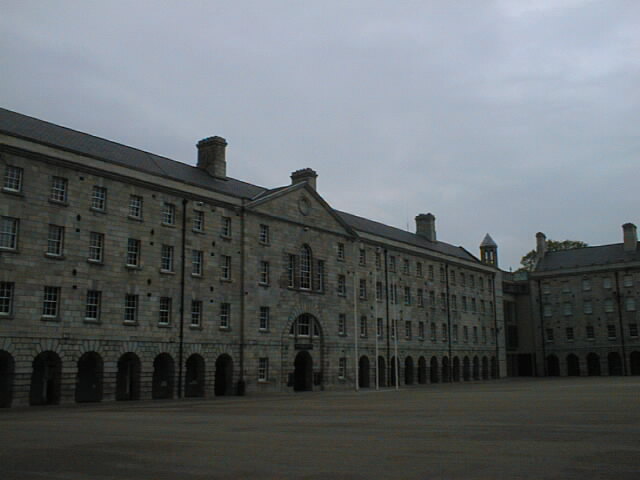 What a delight! By "decorative arts" think historic home furnishings, utensils, religious items, musical instruments, clothing, and many other artistic aspects of everyday (and not-so-everyday) life. Of special interest to me are the collections of Irish coins (spanning a thousand years), silver items, scientific instruments, and somebody's extensive collection of Japanese and Chinese art.
Back across the river, I wander past a tannery (for a comparable smell, think of RV dump stations - sewage treatment ponds are mellow aged by comparison) and reach the gigantic Guinness Brewery. To one side of the main complex is the old storehouse (fermentation building), which has been converted into a visitor center. Here's the entrance: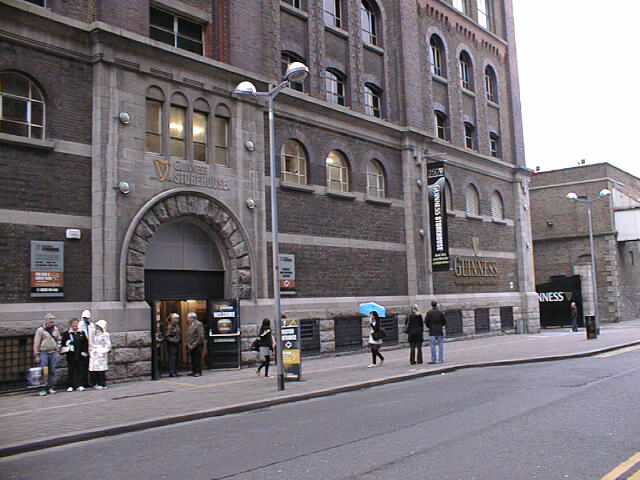 While the Jameson tour is a cozy little lark, the Guinness Storehouse is a monstrous, multi-story, eight-ring circus full of chrome, glass, neon, and multimedia, culminating in a pint of stout at a 360 degree glassed-in observation deck and bar. In the center of the building is a gigantic atrium, six stories high, shaped like a curved pint glass. Part of me wants to laugh; another part just wants to shake my head. Here's a view from the bar at top towards the northeast: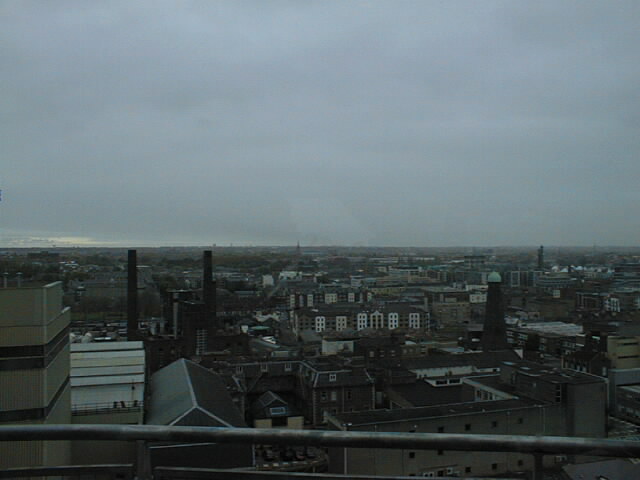 To the left (at the twin stacks) is the historic St. James's Gate Brewery, which is dwarfed by the rest of the complex further left beyond the picture. To the right (with the greenish dome) is St. Patrick's Tower, which looks like an old shot tower but actually was once a gigantic windmill. To get out, you pass through the "Exit Experience" (there's that word again), which is a gallery of videos of cascading foam and volcanic rumblings to make it resemble a lava flow.
Another fun fact: the Guinness you buy in North America or Europe is all brewed in Dublin. There are two other Guinness breweries in the world, one in Africa and one in Asia.
As I wander back through the Temple Bar shopping district, the drizzle turns into a full-blown rain. Here you can see butcher shops, street vendors selling fresh fruit or boxes of detergent, men's tailors, pubs, souvenir shops, and so forth. It turns out the term for package liquor here is "off-license" - once you know what to look for, it's all over the place. Having already sampled Jameson, I decide to try Powers, another Dublin whiskey. Wet, but happy, I return to my room for a bit of liquid-assisted composition before dinner.
April 25:
[Early morning:]
Dinner Friday night is quite a contrast to the previous evening: a formerly tranquil, almost sedimentary setting at the restaurant has erupted into a high-decibel, igneous flood of urban fashionites, taking flash pictures of each other and asking where they can smoke. Service and food are still OK, but I feel like a turtle trying to cross the Autobahn. [How on earth did I survive three-and-a-half years in Detroit?] As much as I actually enjoy the urban E-word, I find myself hastily posting my day's musings to the available Internet and retreating to my room for a quiet read and a fresh start in the morning - so much for Dublin Night Life.
Now, Saturday morning, I wake up before dawn, sleep a bit more, and decide to take a stab at quickly getting out of the city. Will our intrepid hero succeed? We'll find out the next time he finds WiFi, here on: Nerds Abroad.
[Late afternoon:]
Here I am at the Launard House B&B in Kilkenny. Driving out of Dublin is a piece of cake - as long as I'm on a numbered road, everything is well marked. The hard part is finding ancient sites without a guidebook. Oh, here's a sign for the turnoff to the Piper Stones. [****Can't find a blessed thing****] Oh, here's a sign for the turnoff to the Castleruddery Stone Circle. [****Can't find a blessed thing****] Oh well, at least the Brownshill Dolmen is right off R726 into Carlow (Song: "Follow Me up to Carlow"); surely I can't miss that. [****Can't even find a blessed sign****] I guess they expect you to know how to find them.
Driving through the very narrow, crowded streets of Kilkenny is MUCH scarier than driving through Dublin. After checking into the B&B, I go back to town, park a long distance from the town centre, and walk in. Here's a view of Kilkenny Castle from John's Bridge: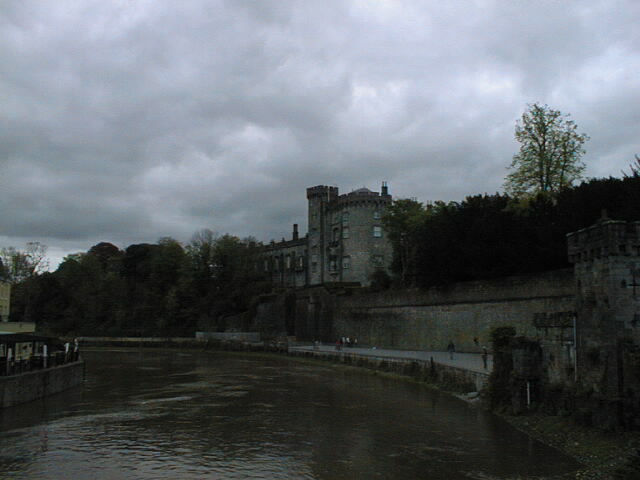 Here's another view from the park nearby: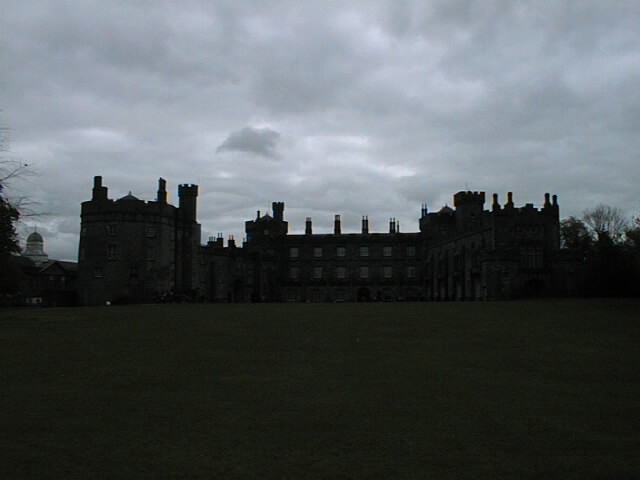 Afterwards I spend some time and a couple of pints at a nearby pub, talking with locals about area attractions, as well as the economy and the lousy state of US Social Security and health care. I'm told that there's a tower at St. Canice's Cathedral that is the tallest point in the county. I don't know that I'll have time to visit it because I have a long drive to Killarney tomorrow. I will see if I can visit the Dunmore Cave, even though it's a bit out of the way. Also, I'm told that the Cliffs of Moher near Doolin (where I'm staying three days from now) are an absolute must: many people have petitioned hard to get the site voted as one of the new Seven Natural Wonders.
April 26:
[Early morning:]
What motivates the proprietor of a bed-and-breakfast: to provide a haven, a minute islet of refuge and luxury in the wilderness of dazed tourism? Or else a bit of rustic charm? I suppose some interpretation of that latter term is present here. I'm not actually dealing with chamber pots or outdoor privies here, but the term bed and breakfast seems to mean very little more than that. The bathroom sink is so small I have to look twice before spitting. At least I have Internet access in my own room; that's more than I had in Dublin.
Kilkenny is clearly the Wisconsin Dells of Ireland: a major tourist trap. I refer to the rows of shops and clusters of adventure and discovery parks vying to ingest my cash (albeit no roller coasters, I must admit). Any Renaissance Faire or SCA event will have its merchant row, of course. I guess I'm just not in a sporting mood this morning; breakfast isn't until 8 and as I type this it's just past 6:30. To me right now, the surprisingly thick "Discover Kilkenny" guide at my night stand is as chilling to read as a fine Gothic horror novel.
Yesterday's pub was the real thing, though, focused on horse races and football rather than music, yet when I mentioned that I play Irish music as a hobby, the folks around me perked right up. One fellow insisted that I must have some Irish blood in me; when I replied that there is some Welsh, he replied that it's still "Gaelic, or 'Gallic' if you will, but it all counts". Moments like that are truly a bit of sunshine.
In case you're wondering about left-side driving, roundabouts, and so forth, it's really not that big of a deal. All you have to remember is that the driver's side is towards the middle of the road, just like in the States. I'm a little nervous on narrow lanes, but I'm that way back home as well. In all fairness, I did actually spend some time studying Irish traffic rules on the internet before coming on this trip, and I thought the effort quite valuable.
[Late afternoon:]
I'm at the Ardree House B&B in Killarney. This is hands down the best room I've had so far. I'll be staying here two nights, which is even better. And it's an easy walk from the town centre, so I can hit the pubs in earnest while I'm here.
The country roads in Ireland are quite scenic, though some are narrower than others, and many times I can't find a place to pull over and take a picture. Here are two scenes from the road between Kilkenny and Clonmel: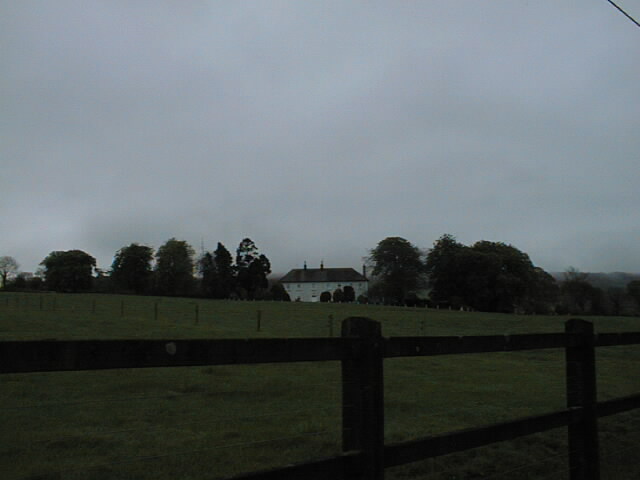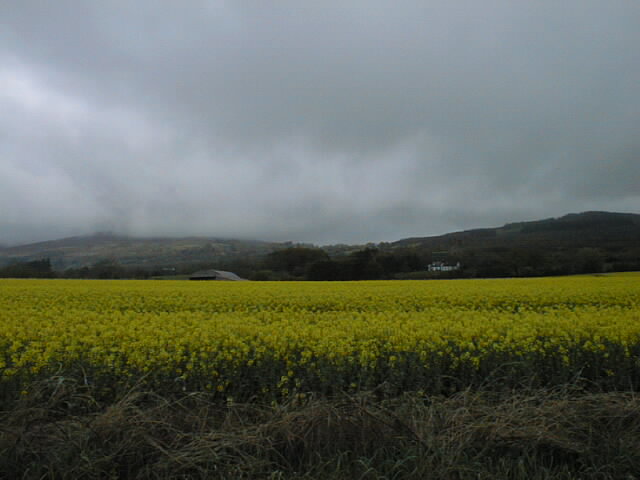 [I learn towards the end of the trip that this is a rapeseed (canola) field.]
I blow off Dunmore Cave, thinking I can visit Mitchelstown Cave instead, but arrive too early. There's still Crag Cave on the way to Doolin, so hopefully I can do that. In the meantime, I'm seeing how many places I can visit that are featured in the title of a song I know or have worked on. The first is Mallow (Song: "The Rakes of Mallow"), where I fuel up. From there, I see the turnoff to Ballydesmond (Songs: "Ballydesmond Polkas"), and can't resist going there.
There are two gigantic wind generators at a factory near Ballydesmond, but I can't find a good place to pull off and take a picture. At the village I stop at a pub for a bowl of leek and potato soup and a pint of Guinness. I also have a half pint of Bulmer's cider - having passed by the plant at Clonmel, I decide to give it a try. It's pretty good.
At Killarney, I visit Ross Castle in Killarney National Park (yes, that is a swan in the water, and off to the right is a tour boat):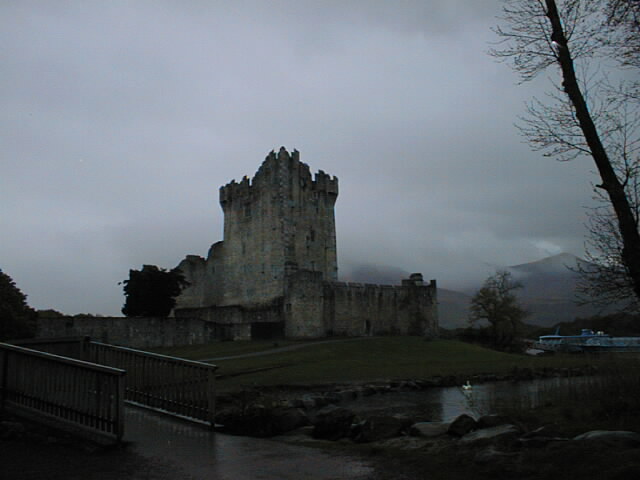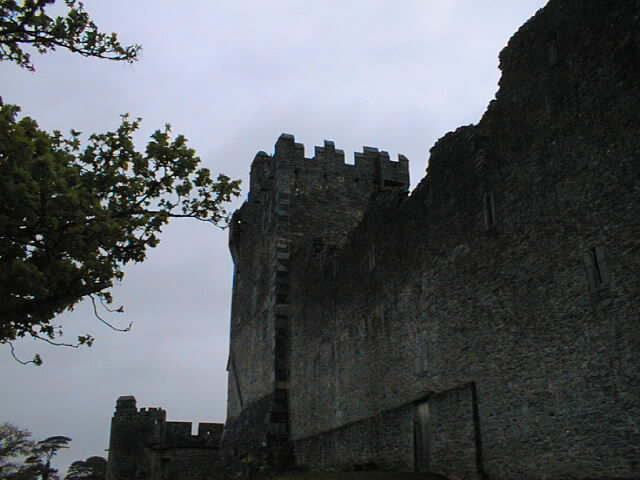 I also walk on the mining trail and get a good view of Lough Leane:
And - while standing on Governor's Rock - of the mountains (that may be Shehy in the foreground, as near as I can tell from the map):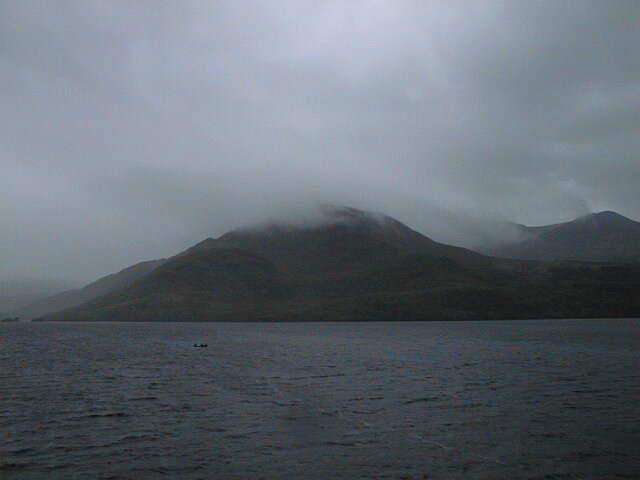 Killarney is another major tourist trap with rows of shops. However, I can't resist buying a Merino wool sweater that smells faintly like the tannery in Dublin. Hopefully some Woolite will wash that out eventually.
April 27:
Whew! What a great day I've had, but I need to rest a bit before hitting the town tonight. There's definitely some live traditional music around here, but I haven't had any luck finding an open jam session. One pub I visit last night has a three-piece band: accordion, keyboard, and electric bass. Another has a more traditional fiddle babe and bodhran (frame drum) player. If I can't find anything tonight, maybe I'll have better luck in Doolin or Galway.

The weather today has alternated repeatedly between downpours and sunshine. No snow, but I've been told it's not out of the question right now at the higher elevations. I'm dumped on as I drop off a suitcase full of laundry at the launderette; by the time I'm out of town, the sun is shining. Today I'm driving the scenic road known as the Ring of Kerry. Here's a scene on my way to Dingle Bay: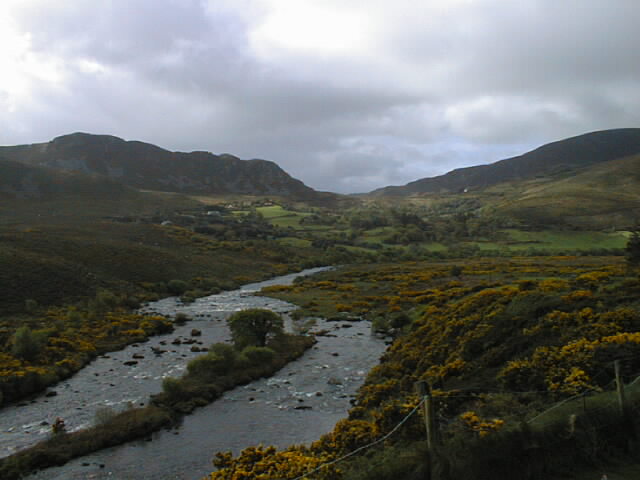 This is Dingle Bay, on the west coast: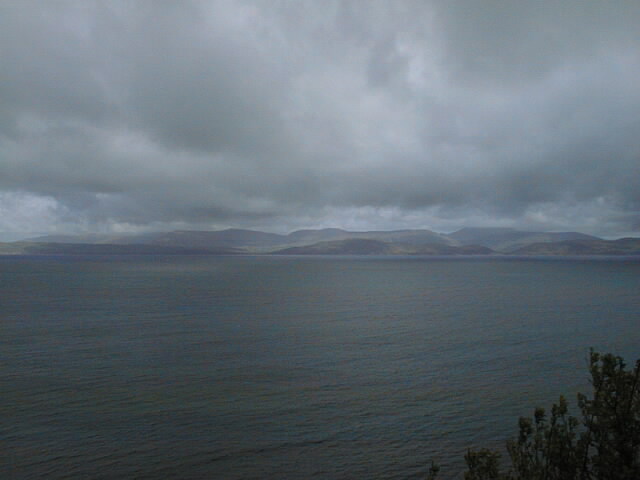 I take a side trip on a road called the Ring of Skellig. These are the Cliffs of Skellig: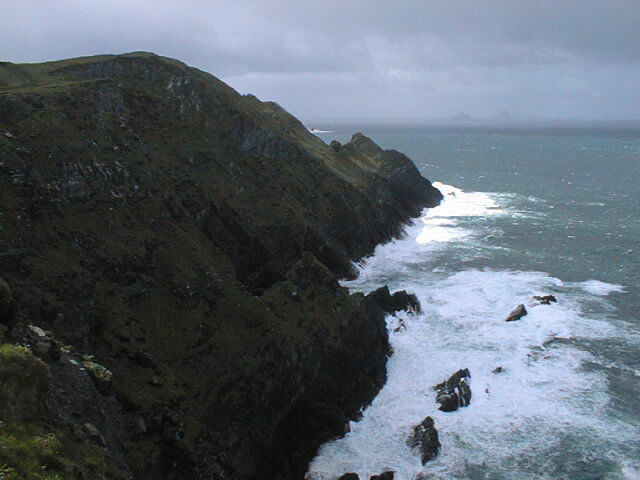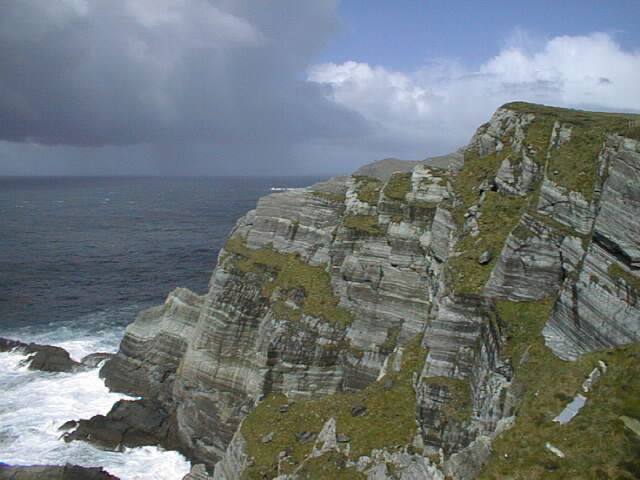 At the place where I take this next picture, the wind is so strong that I have to struggle to stay upright: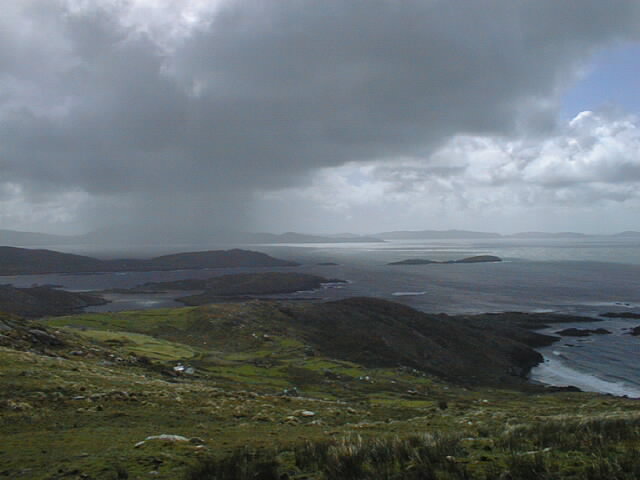 Eventually I reach Kenmare, a port town once famous for its lace but now yet another tourist trap. I have an excellent bowl of seafood chowder and then go out souvenir shopping for the folks. What lace I could find is Quill (a national brand, same as that of my wool sweater); the tag says handmade, but for all I know it's from an immigrant sweatshop in Dublin. Then I buy a porcelain "Irish" doll, made in China. Oh, well. I've also been collecting pocket change for Dad, and have several good examples, not all from Ireland (Irish coins have a harp on the back). For the first time this trip, I receive a 1-cent piece. I was beginning to think that (wisely) they didn't exist. Did you know that an American penny costs more to make than its face value? There's something wrong with that.
I stop by a traditional music store, with CDs, sheet music, and cheap (probably Pakistani) instruments. There's one in Killarney as well, but this time I decide to check out the sheet music section. I find a book of flute tunes that looks pretty promising in that it's recent and I don't recognize a single title; it doesn't have chords for the rest of the band, but better yet it has a CD! This will be perfect for music practice: we can just listen to the CD until a track catches our fancy, and then I can work off the sheet music. The proprietor asks if I have my flute along, and I reply it's in my room in Killarney. He says I may have a better chance of finding a session there on a Monday night than in Kenmare. We'll see.
Here's a scene approaching Moll's Gap (Song: "Mad Moll" - OK, I know that's stretching it):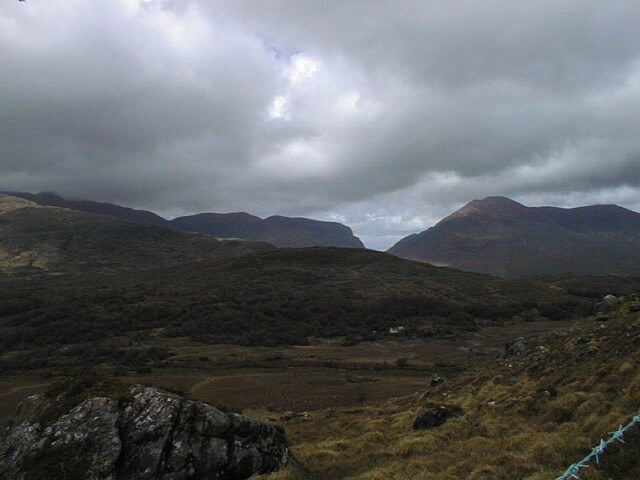 The gap in picture is not Moll's Gap itself; I'm pretty sure it's the Gap of Dunloe. Finally, here's Upper Lake as I approach Killarney: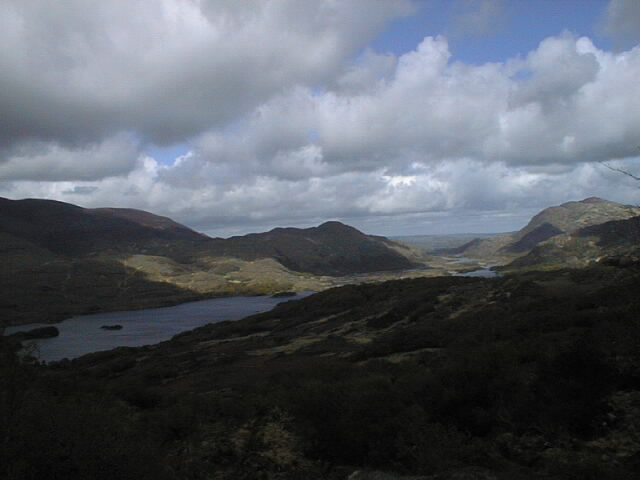 I'm already past the Torc Falls turnoff before I register it. That's OK. It's been a long day, and I need to get into town and pick up my laundry. I'm back in my room with my laundry now, and as I'm writing about the music shop I realize, "Oh, crap, I left my flute in my suitcase". It's still there, and it still plays. I try a few different songs that passed through my head today, just to make sure I can still play them.
Which reminds me of another incident. Yesterday, while walking the nature trail, I see some holly bushes, some big as trees, and some ivy climbing up other trees. I look everywhere for a holly-and-ivy shot and can't find one. But there's one thing I can't get out of my head: there's an evergreen tree here that I recognize, and of course I'm spacing out on the name. In this park they get amazingly tall, almost like a redwood. The needles also resemble those of a redwood. It drives me crazy, and I know I'll remember it if I put it out of my mind. Later, just as I pull into the B&B, I remember: they're hemlock trees! Now I can sleep tonight.
April 28:
[Early morning:]
Last night it pours like crazy. I head out with the flute anyway, but when I stop at the only place that advertises a "session", I open the door and see studio lights, TV cameras, and drunken jig dancing. Either somebody famous is in there, or it's Irish karaoke ("Send a video to your friends") night. Either way, I beat a hasty retreat. That's what you get in a tourist town. We'll see what happens in the rest of the tourist towns I'm visiting.
I have to admit, though, while my megalithic (ancient "giant stone" site) and musical goals haven't yet been met on this trip, the scenery has been worth it. In fact, I can't think once of a genuinely bad time. Even the tannery in Dublin is a fresh experience that I can use as a reference for other odors (notably, my wool sweater, and the breakfast sausages I was served in Dublin).
It's hard to believe I have only three nights remaining. There's much to see yet, but as far as lodging is concerned, here's the scorecard thus far:
Dublin: Best bedding (genuine down), worst breakfast
Kilkenny: Best breakfast, worst room
Killarney: Best room
Earlier in this narrative of my adventures, I mention in passing the lack of climate control indoors. Having lodged in three different locations now, I feel myself almost to be an expert. Each room has a hot water radiator. Each radiator has a knob. Each knob can be turned. To attempt such, however, is like playing nickel slots in Vegas: every now and then a bit of hot water may be doled out, but the trickle of fool's gold quickly peters out, and to succumb continually to the temptation is to stand in danger of losing what body heat remains.
Which reminds me of another feature of Ireland: burning coal. Every time I smell coal smoke as I drive around the country, I have to remind myself that it's not the car that's burning.
[Late afternoon:]
There's no internet access at the Churchfield B&B in Doolin, but I'll see if I can find a place to post an update later. First stop out of Killarney is Crag Cave near Castleisland. First tour is at 10:30 and I'm the only one there. The cave itself is very wet and can flood on occasion. The largest feature is this stalactite, which is maybe 4-5 feet long: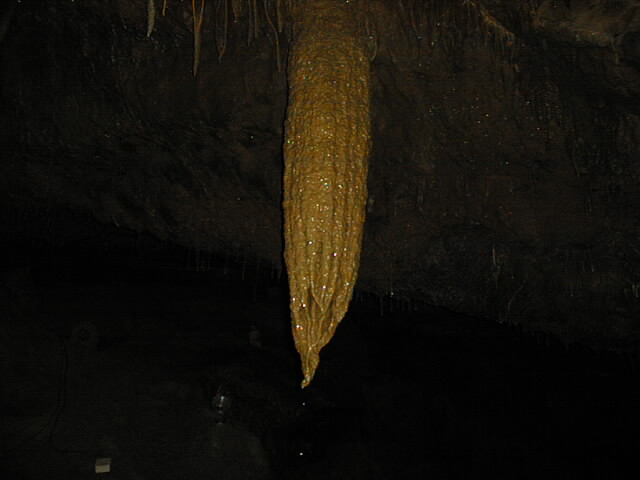 There are lots of soda straw formations, and a few full pillars, like this short one: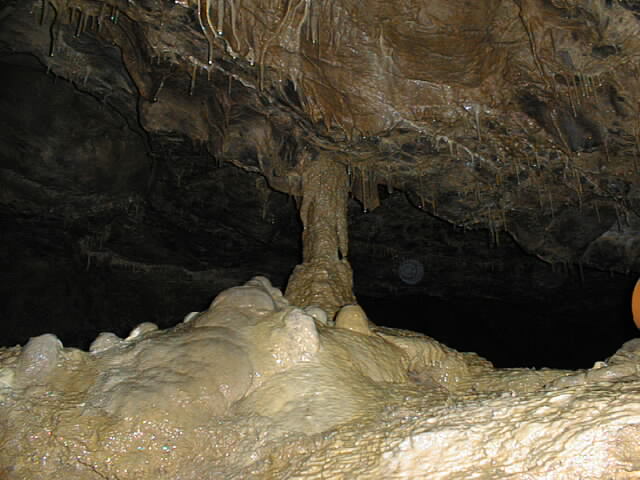 Variations in stalagmite diameter indicate relatively dry (thinner) vs. wet (thicker) millennia: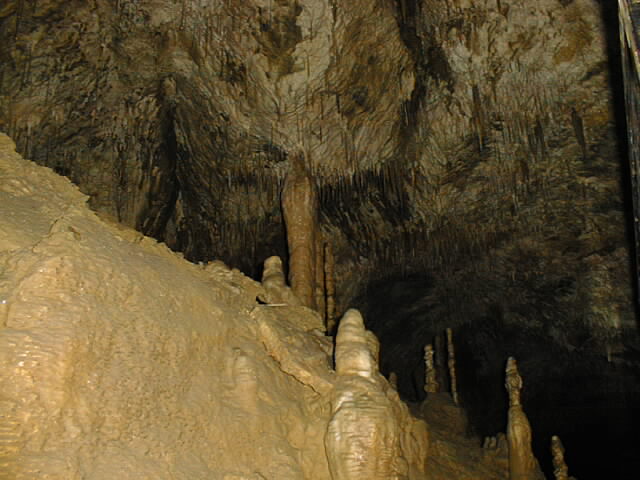 Crag Cave isn't nearly as spectacular as Kartchner Caverns in Arizona, but it's a pleasant tour. From there I go to Tarbert, where I take the ferry across to Killimer. Somewhere before Tarbert I see a thatched barn in excellent condition, but there's no place for me to stop and take a picture. The cliffs at Kilkee are interesting, but my main destination today is the Cliffs of Moher: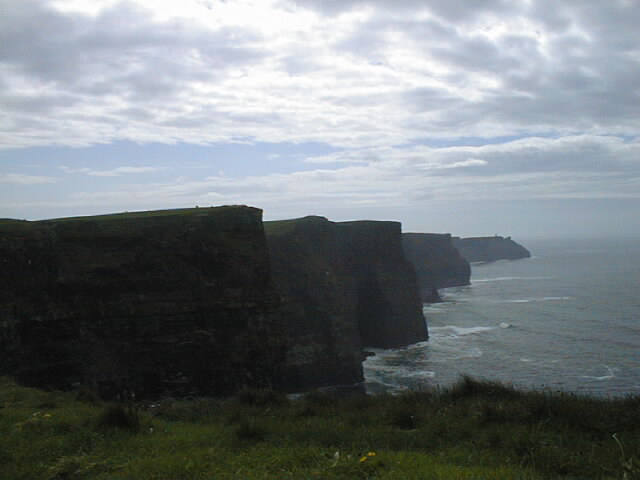 To the north you can see O'Brien's tower, which is actually relatively modern (built in 1835 - there's a good picture of it on the internet at www.cliffsofmoher.ie):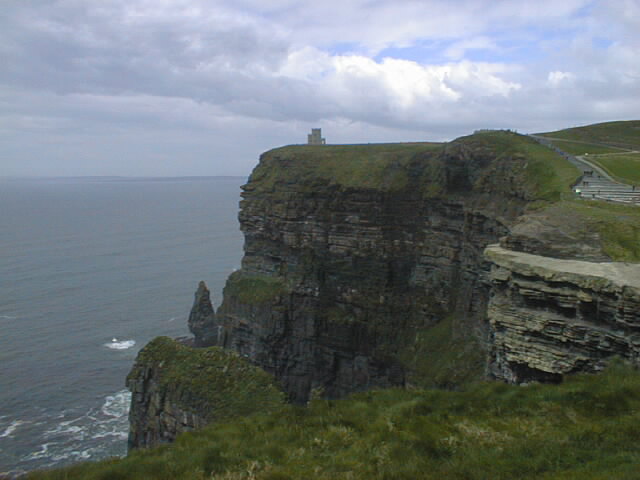 Supposedly the best view is on top of the tower, but I'm not feeling ambitious enough to hike all the way up there. One unique feature of this park is the visitor center, which is underground: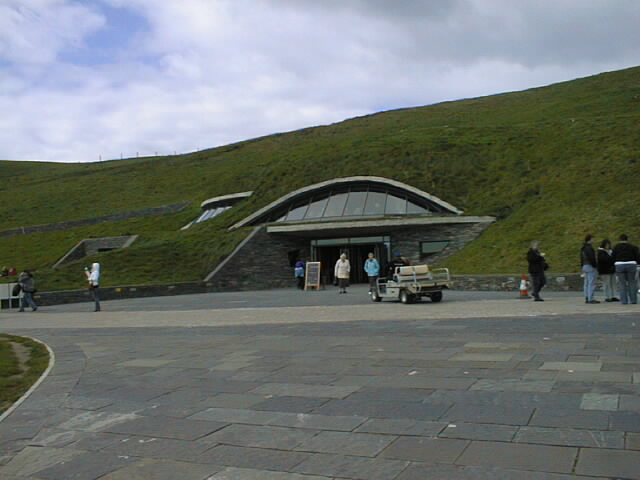 As are the gift shops: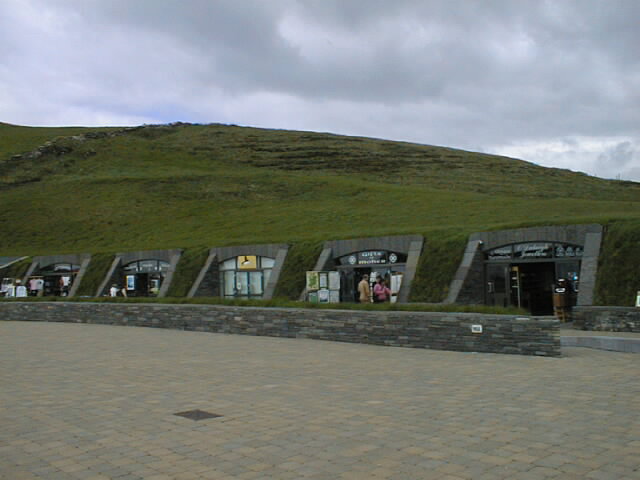 I pass the turnoff to Doolin and stop briefly at Lisdoonvarna (Song: "Road to Lisdoonvarna"). Then I return to Doolin. The B&B is a short walk from two traditional pubs, both featuring live music nightly, so we'll see how it goes tonight.
I find an internet café nearby so I'm posting this tonight. I probably won't post again until I reach Galway.
April 29:
[Early morning:]
Lots of great music last night, but while the sessions are technically "open", it's quite obvious as soon as I enter that these people have been playing together for quite some time. McGann's pub has in my opinion the best sounding music: a trio featuring flute, concertina, and fiddle, with an excellent balance. McDermott's pub features a trio of guitar, banjo, and fiddle; as I walk in, they're doing "singies", which I can do without, but just as I'm ready to head back to McGann's, they launch into some kick-ass syncopated reels. I stick around a bit longer, but then they go back to the singies and I'm out of there.
I recognize hardly any song anyone plays. The material that I know is pretty much moldy old cheese by comparison. Just before I head back to my room, though, I hear "Bobby Casey's Hornpipe". I barely know how to play that one anyway, so I don't feel inclined to go grab my flute and come back again.
[Evening:]
Later this morning, I'm wandering around Doolin, waiting for the Doolin Cave tour. Here's a picture of McDermott's Pub (founded in 1835):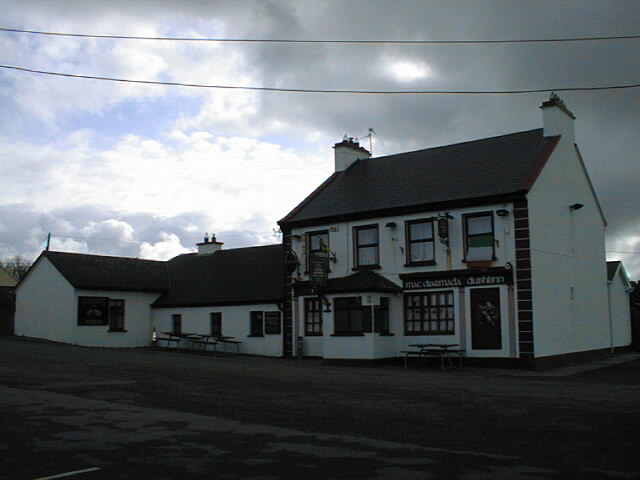 And here's McGann's Pub: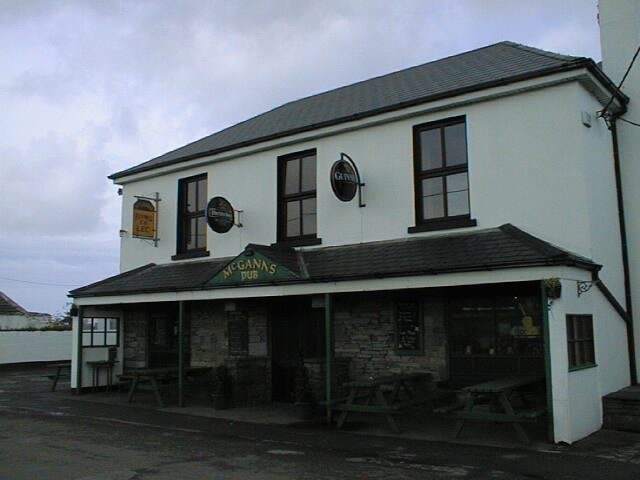 While walking along a country lane towards the coast, I encounter an old cemetery and chapel ruins: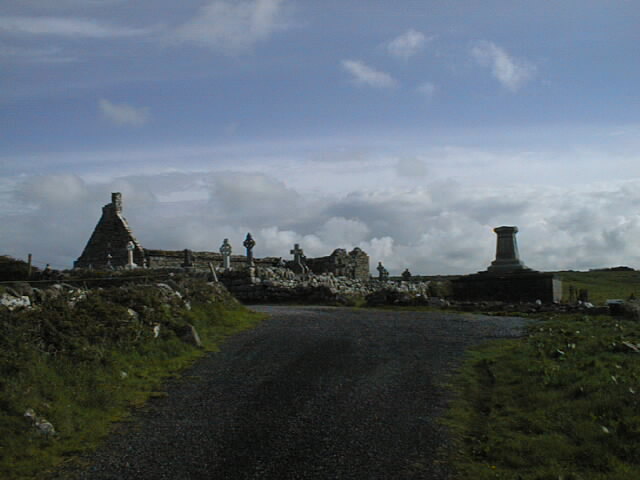 Finally, it's time for the tour, and a shuttle bus takes us from Doolin to the actual cave. To reach Doolin Cave proper, we go 30 yards down a vertical shaft, then 100 yards through a horizontal shaft. We have to wear hard hats and crouch down to keep from hitting our heads on the ceiling. Finally, we emerge into the main chamber to view the Great Stalactite of Doolin. I try tilting my camera at an angle to get the whole thing in, and later that evening I rotate and crop the picture to make it look a bit more normal (I actually take two shots, and unfortunately they both turn out fuzzy):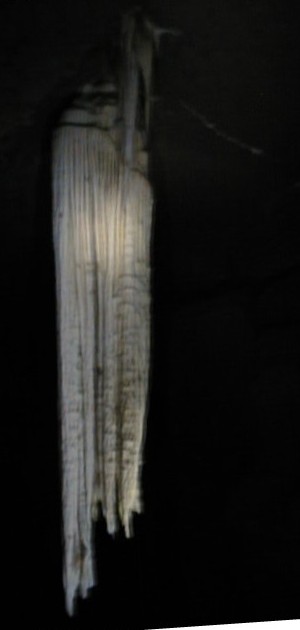 At 24 feet long, it's the second largest known stalactite in the world (the largest is in Sao Paolo, Brazil), and the largest open to the public. The white side is still "alive", or actively forming. The reverse side is "dead", but still spectacular, and my camera shot greatly improves as well: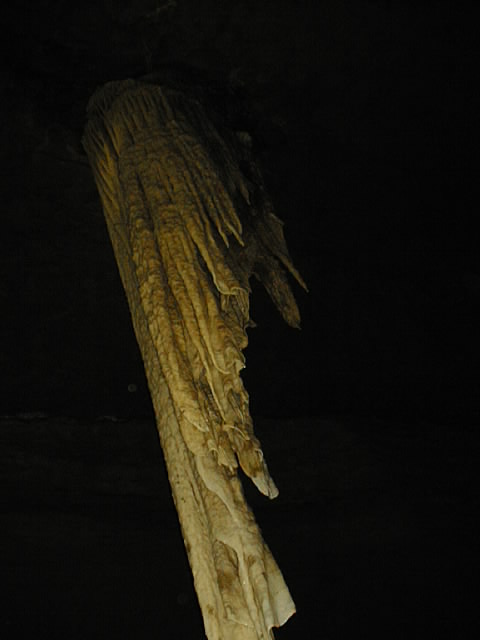 As we emerge from the cave, the rain starts up in earnest again. Back in Doolin, I drive out through Lisdoonvarna once more, and reach Caherconnell stone fort. Larger than most ring forts, it was built between 900 and 1000 AD, and occupied as late as the 17th century. Here's a view inside, along a dividing wall towards the outer ring wall: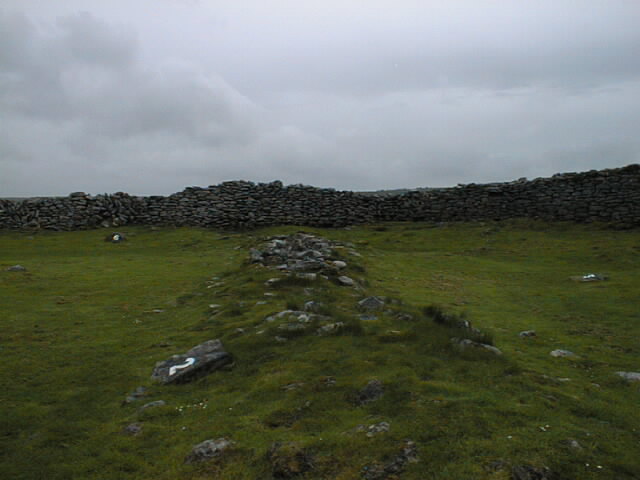 Here's a view outside the ring wall facing an elderberry bush: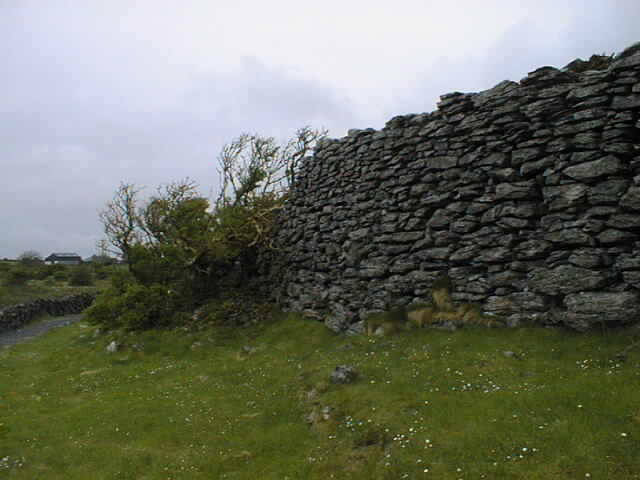 Outside the wall is a prehistoric burial chamber that, upon excavation, was found to contain a much later (15th century) burial: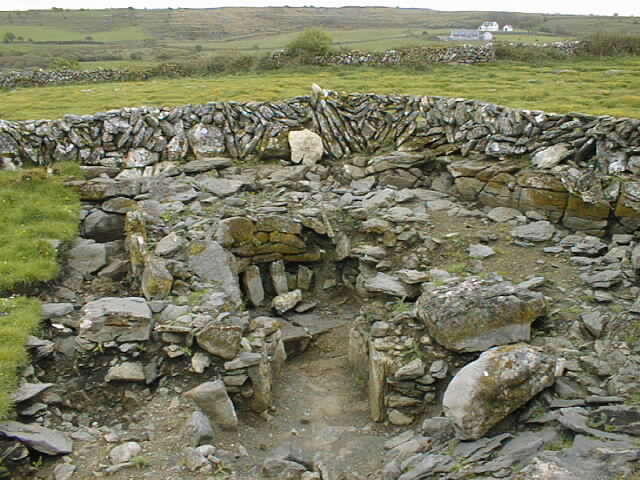 Last stop before Galway City is the famous Poulnabrone megalithic tomb: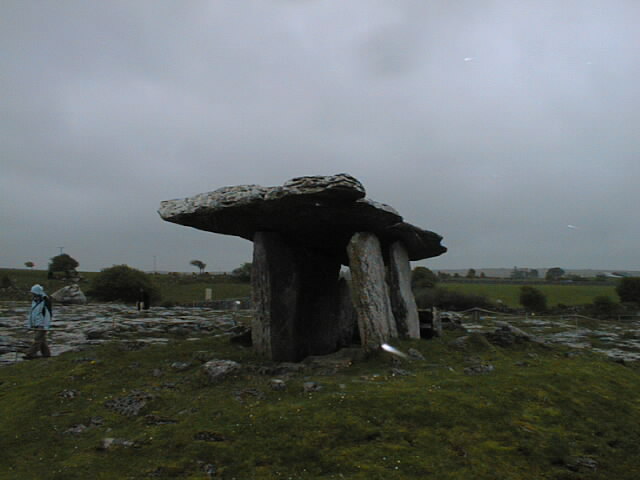 Professional photos make it look huge, but it's not much taller than I am in front, and considerably shorter in the rear: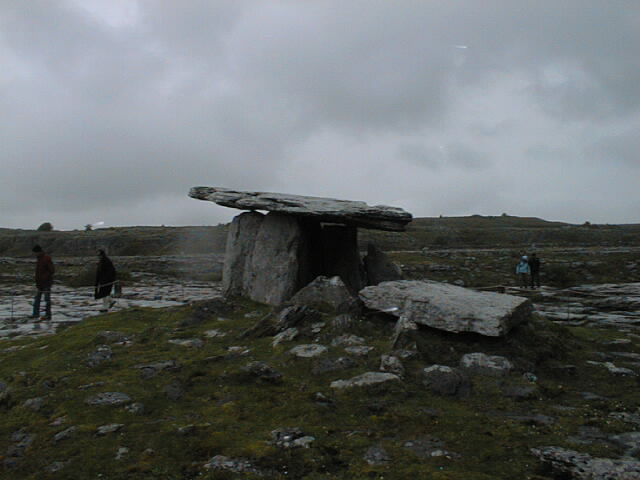 Although it's not actually 18 inches tall, I'm having a hard time keeping Spinal Tap's "Stonehenge" scene out of my head. (Unless you've seen the movie, there's no explaining the joke.)
Tomorrow is my last full day before flying out. I'm taking it easy tonight, and tomorrow I plan to zip back towards Dublin on the expressway so I can spend some time in County Meath visiting more megalithic sites.
April 30:
[Evening:]
Sunshine! Blue skies! All day long! Unfortunately, the weather is so nice that I'm completely across the country before realizing that I left my raincoat and hat in the wardrobe in Galway. Oh well, I need more room in my luggage anyway, and I can replace them after I get back home.
The big stop of the day is at the Brú na Bóinne visitor center near Slane. From there, buses take you to Newgrange and/or Knowth passage tombs. I go to Newgrange first. Here's a view from the south: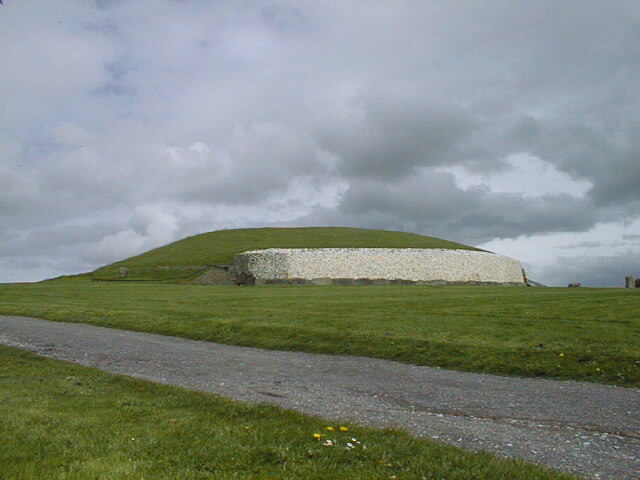 The wall is high-grade quartz from about 60 miles away. The quartz rocks were found on the ground during excavation, and the archaeological team recreated the wall from them. The dome is also completely surrounded by massive kerbstones from about 30 miles away; they were kept in place by the excavators but protected by retaining walls and concrete lids except at the entrance. The entrance to the tomb faces east: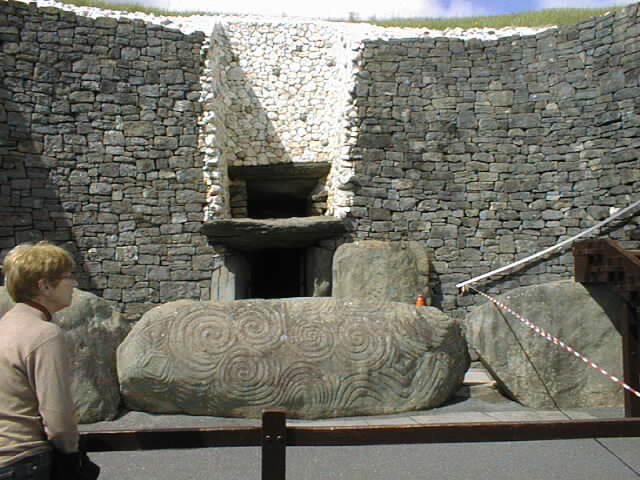 The roof box above the passageway allows light to shine all the way to the tomb chamber at sunrise of the winter solstice. The interior architecture (no pictures allowed) is completely original, not reconstructed. The domes are built such that no water ever reaches the chamber. The absence of smoke stains indicates that the chamber was kept dark except for those few minutes each year.
A few of the kerbstones at Newgrange have petroglyphs: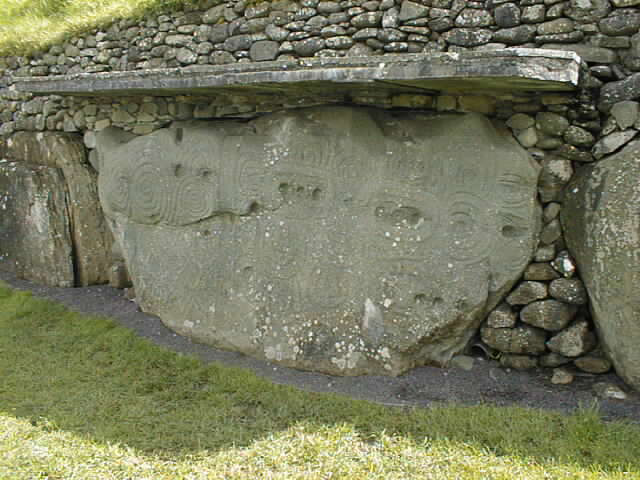 Some standing stones also remain: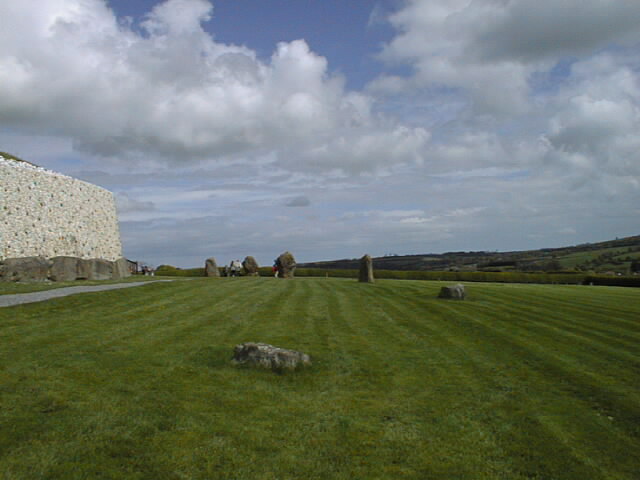 Afterwards I go to Knowth. While there were 48 people at the tour to Newgrange, and could only hear half of what the guide said, I'm the only one here at Knowth, and get the guide all to myself. Here's the main dome from the north: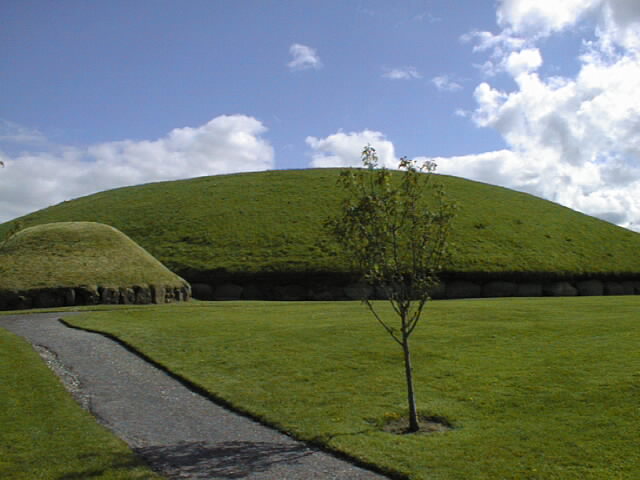 Several smaller domes nearby are reconstructed from their foundations. The main dome covers about an acre, compared to a half acre for Newgrange. It was the site of a number of communities over the millenia, from Neolithic to early Iron Age to early Christian to Norman times. Communities from the Iron Age onward actually built on top of the dome, using it as a natural fortress.
There are two Neolithic passages, east and west, each ending at a tomb. At this site, the sun aligns with the passageways at sunrise and sunset of the equinoxes. Here is the west entrance:
Unlike at Newgrange, the archaeological team that excavated this tomb left the quartz rock on the ground, speculating that it was intended to be there. Also, unlike Newgrange, almost every single kerbstone has petroglyphs, making it the site of about 1/3 of all known Western European rock art. Here are some more examples: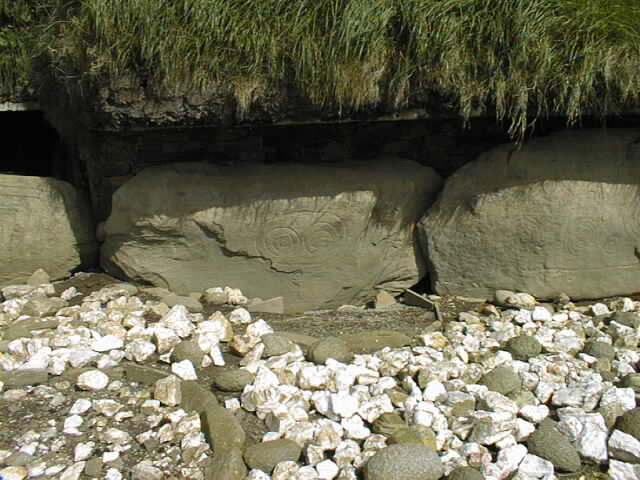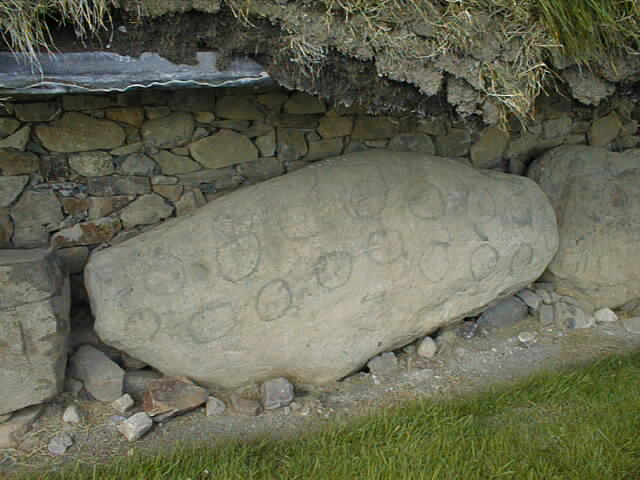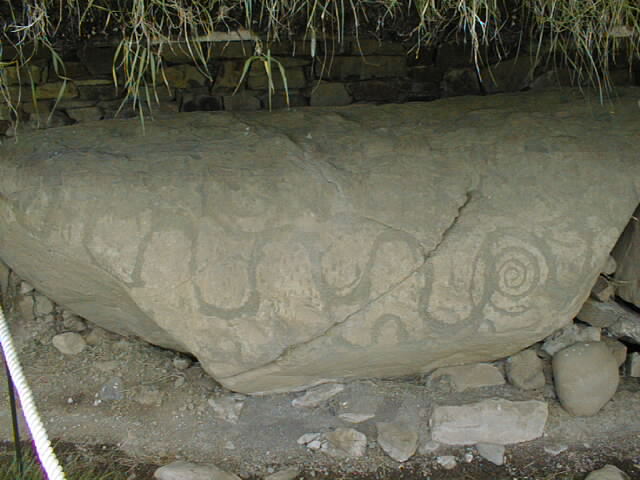 Finally, the small dome in this picture is actually the most ancient on the site, about 6000 years. The large dome was built adjoining it: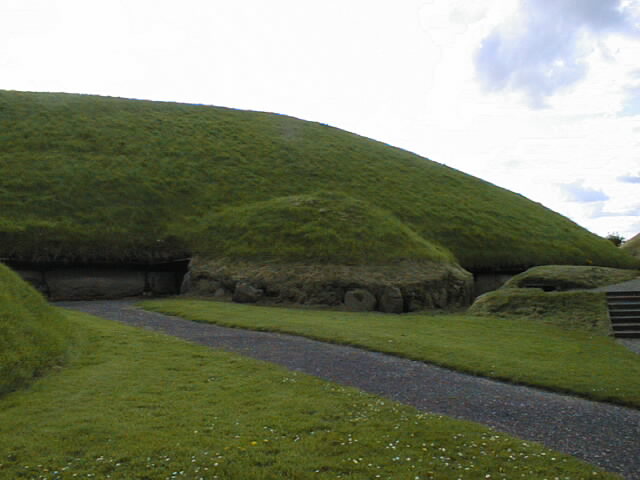 All of the major Neolithic sites in the area are direct line of sight from each other. Historically, at the Celtic New Year (November 1), a fire was was lit on the Hill of Tara (visible from Knowth) and fires spread out from there like signal beacons. One other tidbit: although the Irish call themselves Celts, genetic evidence shows that there was no large influx of true Celts into Ireland. Speculation now is that that natives of Ireland traveled to other Celtic areas and brought back the culture.
There's no internet at the Flemington House B&B in Ratoath. Maybe I'll be able to post at the airport.
May 1:
[Late morning:]
Welcome to the airport from Hell. I arrive at the airport thinking I had allowed plenty of time to relax at a bar and send some email. Then comes the wait at baggage check-in, the longest I'm sure I'd ever experienced. And if that isn't bad enough, when I reach the queue at customs my jaw drops. I think "oh my god, oh my god, there's no way I'm going to make my flight". I hear someone else in line mention that this happens all the time, and they'll delay the flight. That at least is a ray of hope in the midst of my misery. I arrive at the gate just at the scheduled departure, but the backup at customs is so bad that sure enough the flight is delayed, and I'm not even close to being the last one on the plane. Oh, well, at least I'm seated now, though I'm thirsty as heck and don't know when I'm going to get something to drink.
On a closing note, the Flemington House B&B had the most luxurious bedding and best breakfast (and best pudding) of the entire trip, despite the lack of internet, all-in-all a relaxing finish to a long and tiring trip. All good things must come to an end, however, and after a hellish flight back a hot shower and warm bed at home will be especially welcome.
---
The Circular File